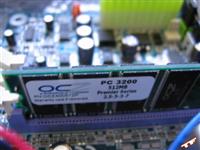 OCZ Premiere PC3200 Memory
Memory is a crucial part of every system. When people look at purchasing or building a new computer, the thing they pay most attention to is the processor speed. Buying an adequate motherboard, they move onto RAM (Random Access Memory). Those not interested in overclocking and those just plain new to system building will often settle for the cheapest RAM they can find that compliments their new processor. This bargain bin shopping isn't always a bad thing, some RAM is decent and cheap. But as previously mentioned, RAM is an important factor in terms of PC performance. A real life example, I'm running identical rigs (AMD64 3200+ & ASUS K8V SE Deluxe), both received almost identical CPU scores in PCMark04, however there was a 1000, nearly 25%, performance difference between the two memory modules. Both are 512MB PC3200 sticks, both manufactured by OCZ, the only difference between them is one is Premiere RAM and one is Value RAM.
Today I review the OCZ PC3200 Premiere Series RAM. The Premiere series, as stated by OCZ is
"..designed to give mainstream users great performance at an excellent price point. This module is able to run at 400MHz with CL 2.5-3-3-7 timings" and is "Ideal for: Mild Overclocking, Casual Gaming, Internet browsing, Mild video editing."
Pretty much, it packs quite the punch for the price. OCZ has made a name for themselves among the enthusiast crowd, constantly rivaling better known companies Crucial and Kingston in performance memory. OCZ did lose some footing due to a scandal a few years ago, however any ground they lost, they soon made up. Best known for their Extra Latency "EL" and Extra Bandwidth "EB" series, OCZ has been a less expensive, but still reputable brand to purchase from.
| | | |
| --- | --- | --- |
| The Plastic Casing | | Chip Information |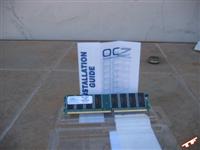 Overall View
The Premiere PC3200 comes packaged in a single plastic container along with a small insert containing warranty information and an installation guide. The Premiere PC3200 is rated for 200MHz FSB (DDR400) at the timings of CL 2.5-3-3-7 (CAS, TRCD, TRP, TRAS) which are decent timings for only being one step above Value RAM (which runs 3-4-4-8). However both motherboards the Premiere PC3200 was tested on came up at 2.5-3-3-8 when the motherboard settings for memory timings were set to Auto. I had no problem bringing them down to 2-3-3-6 though, which are the timings of OCZ's Performance RAM (which is one step above the Premiere series).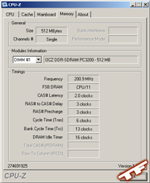 2-3-3-6 Stepping
Now I'll get to the part that everybody loves, the tests and their corresponding performance graphs. I used two benchmarking programs to test the memory: FutureMark's PCMark04 and SiSoft Sandra 2004. I tested OCZ's Premiere 3200 on both the ASUS K8V SE Deluxe K8T800 and Gigabyte K8N-Pro nForce3 150 motherboards.
Test System:
AMD Athlon64 NewCastle 3200+
ASUS K8V SE Deluxe / Gigabyte K8N-Pro
ATi Radeon 9600
1 HD and 1 DVD±RW
4 80mm Vantec Stealth Fans
For all tests, the Premiere PC3200 was run at CL 2.5-3-3-11 with the default voltage of 1.6V.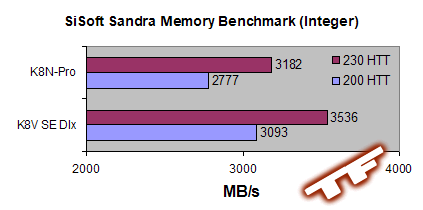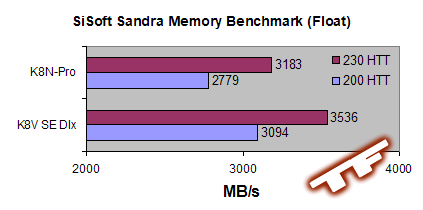 As you can see, at stock speeds, the ASUS K8V SE Deluxe obviously dwarfs the Gigabyte K8N-Pro in performance. But this isn't a motherboard review… In both instances the performance difference between the RAM at stock 200HTT speeds and the overclocked 230HTT is about 400 points for both motherboards. This shows a consistency between two completely separate motherboards so potential buyers should also experience about the same performance increase.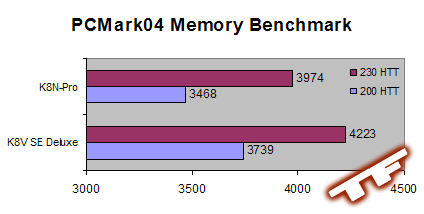 Once again, the K8V outperforms the K8N, but there is a 500 point difference between both boards at the different HTT speeds. Again showing the consistency of the Premiere PC3200 not only between two motherboards, but two different programs.
The main reason behind buying anything other than value or bargain RAM is for overclocking purposes. As stated earlier, OCZ considers their Premiere line for the moderate overclocker, so lets see how moderate this overclock is. Shown above, I was able to get the Premiere PC3200 to 230HTT painlessly at default voltages. At 230HTT, the system was completely stable according to Stress Prime 2004 which ran for 24 hours. I was able to push the RAM up to 233 HTT where it would boot into Windows and run Stress Prime 2004 with no errors, but PCMark04 would freeze and refuse to run. I increased the VDimm to 1.8V, and loosened the timings but was still unable to get the computer to post at anything higher than 233HTT. The Athlon64's aren't known for their overclocking abilities, but I was able to get some Corsair XMS PC3200 to stably run at 237MHz when I became concerned the CPU might be the limiting factor.
| | | |
| --- | --- | --- |
| 230 HTT... | | ...was very easy to acheive |
For being basic/beginner OC RAM, I feel this RAM performed very well in terms of price/performance. At $94 a stick from NewEgg, I was able to get an easy 300MHz overclock resulting in a noticeable performance gain. For those who don't OC, I had no problems running the RAM at more aggressive timings. The Premiere line is a welcomed step up from most Value RAM while keeping an affordable price-tag; I would recommend the Premiere PC3200 to anyone looking to get into overclocking.
PRO's:
Relatively Affordable
Easy 300MHz OverClock on an A64 3200+
Can run more aggressive timings than specified
Good RAM for someone wanting to get into OverClocking
CON's:
For $30 - 50 more, you can get top-of-the-line PC3200
Discuss this Review on the Forums