| | | |
| --- | --- | --- |
| PDP Systems | | Patriot Memory |
With a recent surge of new companies in the computer industry, it is becoming more difficult to be able to distinguish between the good and the bad manufacturers. One of these new companies, PDP Systems, recently premiered their line of Patriot memory modules which cater to the whole computer market: from the bargain shopper to the computer extremist. While PDP Systems is nearly fifteen years old, they only recently have started to venture into the computer memory market. As always, memory is an important computer component and greatly impacts your system's performance and stability. Today, I review the PDP Systems Patriot PC3200 Memory module.
| | | |
| --- | --- | --- |
| Packaging | | Maroon Heat-Spreaders |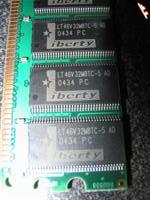 Liberty Chips
The Patriot PC3200 comes packaged in an over-sized plastic box along with an informational display containing warranty information and a quick installation guide. The module itself is very sleek looking as it features a glossy maroon heat-spreader with crisp white lettering. Removing the heat-spreader's clips and applying a bit of force, it was time to see what chips PDP Systems had chose to use for their PC3200 modules. The chips are labeled as Liberty LT46V32M8TC-5 AD, if that means anything to anyone, I've never heard of Liberty before (and could find no relevant information on them), but these chips appear to be 5ns.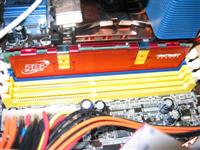 Installed & Well
Installing the Patriot PC3200 into an AMD64 system, the module's SPD timings were detected as 3-3-3-6 by my ASUS K8V SE Deluxe. After running StressPrime 2004 and Memtest 86+, the module appeared stable at its specified 200HTT 3-3-3-6 speeds. I was able to tighten the timings to 2.5-3-3-5, but those were the best timings I was able to achieve without stability issues or a BSOD. Focusing on over-clocking, the highest attained over-clock was 218HTT @ 3-3-3-5, which was stable throughout all Windows tests, but had more than a couple errors in Memtest 86+. The highest, stable over-clock I achieved was 215HTT which ran flawlessly at the tighter timings of 2.5-3-3-5 at 2.6V. A quick note, the system would not post at anything higher than a VDIMM of 2.6V, nor was it ever able to reach CAS 2.
Test System:
AMD64 3200+ NewCastle (200x11)
ASUS K8V SE Deluxe (K8T800) - 1003 BIOS
512MB PC3200 Patriot
ATi Radeon 9600
Enermax 330W PSU
Windows XP Professional SP2
2 HD's and 2 Optical Drives
The RAM was tested at four different values, 3-3-3-6 at 200HTT and 215HTT and 2.5-3-3-5 at 200HTT and 215HTT.




Starting with everyone's favorite benchmark, SiSoft Sandra 2004 SP2, we see that the slightly tighter timings have no performance increase over the looser timings.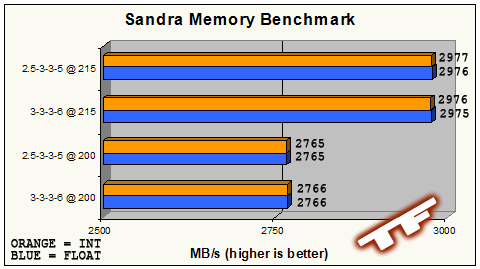 Moving onto PC Mark 04, we see an approximate 75 point difference between the tight and loose timings at 215HTT, whereas, an actual 5 point loss at 200HTT.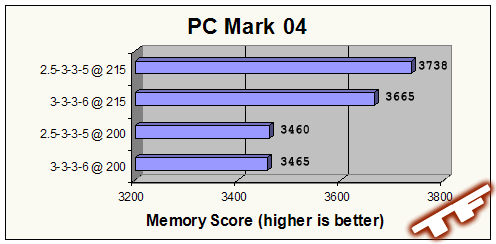 For the next round of tests, I used Cachemem 2.65 which tests both the memory's read and write speeds. As you can see, the timings did not affect the write speeds at either 200 or 215HTT. It's a whole different story with the read speeds though. There is a 367.2MB/s (~13%) difference between the 2.5-3-3-5 and 3-3-3-6 timings at 200 HTT. While the difference at 215HTT isn't nearly as impressive as it was at 200HTT, an 83.1MB/s (~3%) difference is nothing to scoff at.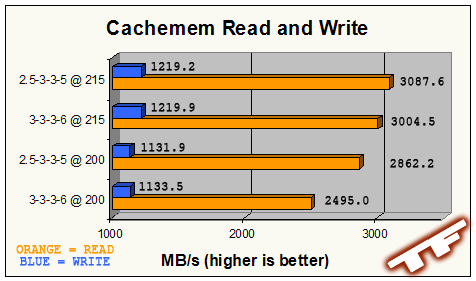 Rounding out the tests, we move onto the all necessary PiFast calculation. Slight to minimal difference between the two timings at either HTT speed.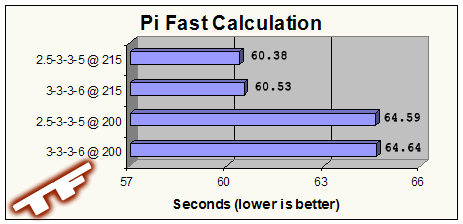 I was pleasantly surprised with the decent showing of PDP System's Patriot PC3200. Though not aimed towards the over-clocker, the Patriot PC3200 is quite a contender among value RAM. The Patriot PC3200 retails around ~$70 a 512MB stick, but is often on sale for ~$50, at which the memory is a steal. While not as solid a performer as the
OCZ Premiere PC3200
, for half the price, the Patriot PC3200 is a can't miss for builders on a budget. Not to mention a 165MHz over-clock isn't that bad for budget RAM. I wouldn't hesitate to recommend this memory to someone on a budget or someone who doesn't need the best performing RAM on the market.
Pros:
Cons:

Sleek Heat-Spreaders
Cheap
Stable
Discuss this Review on the Forums