This past August 11th to 14th marked the 10th Annual Quake Convention in Grapevine, Texas. With 76 hours of non-stop "Peace, Love, and Rockets," a 200,000 square foot BYOC with seating of around 6,000, miles upon miles of Category 5 patch cable and a 1st place Doom 3 Tournament purse of $25,000, QuakeCon is the premiere North American LAN party. And did I mention that they were selling 24 packs of Bawls for $20? Let the gaming begin.
For a second consecutive year (and hopefully years to come), QuakeCon 2005 was held at the Gaylord Texan Resort and Convention Center. The Gaylord Texan is not your ordinary hotel; it's a beautiful and lush hotel paradise enclosed by a glass atrium. It features 4.5 acres of running water and plants, a street lined with shops, six restaurants and seven lounges, an indoor and outdoor pool and an astounding view overlooking Lake Grapevine. For the QuakeCon rate of $129.99 a night, the Gaylord was definitely a deal.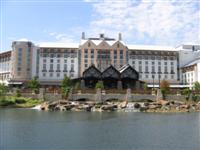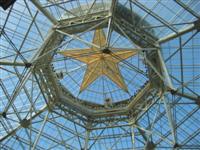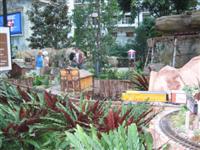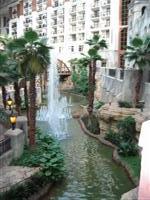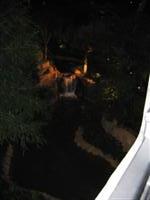 The journey begins Wednesday, August 10th at 6:00am PST. Living in San Jose, California, the drive to Grapevine would last thirty-one hours of straight highway driving… thank god I'm flying.
The wait for QuakeCon begins on Wednesday, where gamers wait in line for up to twenty hours to get in for Wednesday's "Early Registration." Staying true to its name, this year's early registration didn't start until 3:00am (previous early registrations began around 10:00pm).
QuakeCon officially starts at 8:00am Thursday morning; however, due to me getting to bed around 4:00am the previous morning, today doesn't start until noon. : At 1:00pm, the NOC held a photo scavenger hunt, which seemed to be a bust as most people seemed more concerned with getting oriented and set up in the BYOC. At 5:00pm, nVidia had scheduled a "Special Presentation," where they debuted their 7800 GT card for an MSRP of $450. They followed up the 7800 GT unveiling with a two and half hour "What Would You Do?" contest hosted by Julie Stoffer from The Real World: New Orleans. The contest was pretty much a combination of Fear Factor and Girls Gone Wild… except, instead of girls, the contestants were pasty white, over-weight gamers. Contestants had to participate in competitions which involved drinking 15 bottles of water and holding their bladders for the 2 hour remainder of the show, doing the macarena for 90 minutes, eating a butter stick (a stick of butter on a dowel), do pushups (an Army Ranger won this competition), shave their legs, shave their heads, eat worms (the guy provided his own worms), drink a fish milkshake, and perform a strip tease. Apparently nVidia didn't realize that attendees of QuakeCon don't care about self humiliation if there are free items involved. This wasn't a very formal event like last year's debuting of the 6600 GT, but from what fellow QuakeCon attendees have said, they enjoyed the show.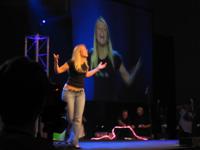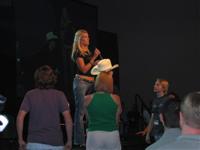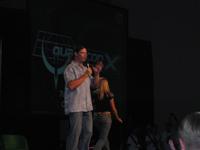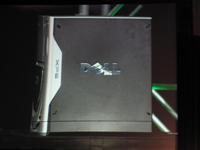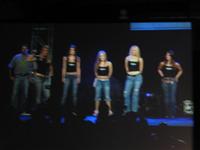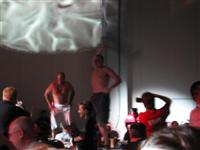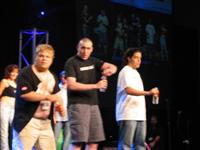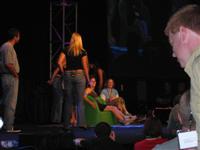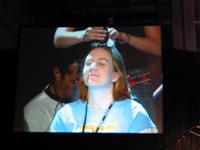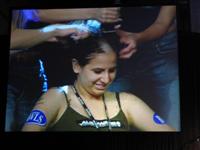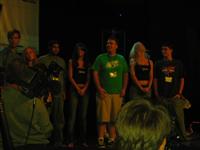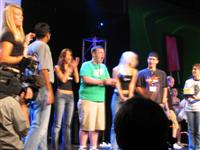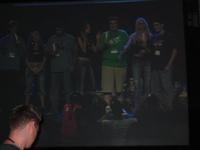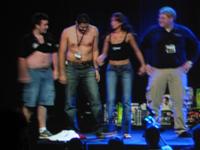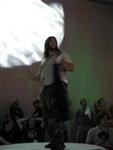 The show ended around 8:00pm, Mr. Sinus was set to begin at 9:00pm, but since I'm not a fan of their comedy I spent the rest of the night pwning noobs in Battlefield 2.
I spent some time late Thursday night/early Friday morning perusing the aisles for any creative and unique case mods and found quite a few; more specifically: twenty-seven. My three favorites are the one installed in a demon, the Ford Supercharged one and the one in the plastic nVidia chair. Because of the sheer amount of pictures (34), I've displayed my three favorite below and .rar'd the entire series which is
available here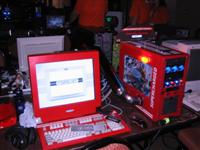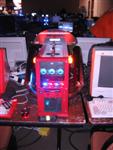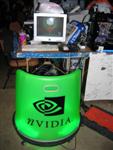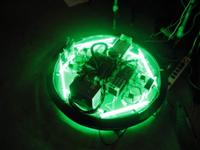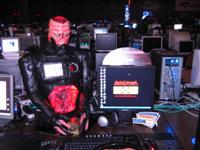 Day 2 coverage will be posted tomorrow.