Before I start this review, I'd like to thank Helen from
MGE-USA
for providing TechFreaks with this product to review.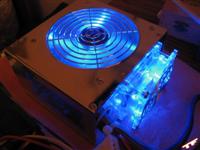 Oooh. Blue.
A power-supply is the heart of a computer system. While it may not be priced as such, the power-supply is one of the few necessary components a computer requires. But how many of those necessary components can say that they will sacrifice themselves for the good of the others? To think how many times one upgrades his or her processor, motherboard, memory and graphics card, the neglected power supply is the key piece that is expected to complete the puzzle.
Today I review the MGE Xtreme Gamer Vigor 500W power-supply. In my review of the
Antec SmartBlue 350W
, I had advised users to not trust their system with $20 PSUs that rival Christmas trees in amount of flashy lights. My point was thus proven in the testing of the
Aspire 500W PSU
; even though I received a handful of emails from satisfied Aspire customers. So here I am, once again, reviewing a lesser known company's power-supply that looks very similar to the design of the Aspire 500W. If you've never heard of MGE/Xtreme-Gamer, don't worry, I hadn't until I read a review on one of our affiliate sites
| | | |
| --- | --- | --- |
| Box Shot | | Box Shot #2 |
| | | |
| --- | --- | --- |
| The Group | | So many connectors |
The Vigor 500W comes packaged in a tightly-fitted, black and red colored box showcasing many of the great features the Vigor 500W has to offer. Inside, we see a mirror-finished metallic silver power-supply with a 120mm blue LED intake fan, an 80mm blue LED intake fan, and two blue-tinted transparent windows. Sticking with the blue theme, all cables have been sleeved with a blue colored mesh and all power-supply connectors are a semi-transparent blue. Talk about aesthetics.
You may have noticed that there is no exhaust fan, the reason for this is that the back of the power-supply features a honey-combed backing. The honey-comb design works well for two reasons: it does not restrict air-flow and it is structurally supportive. Also on the back of the Vigor 500W is a fan adjustment knob that adjusts the speed of both fans, which directly affects the brightness of the fan's lights. Packed along with the Vigor 500W are a power-cord, four screws and two molex -> SATA converters. The SATA converters are a welcomed addition because they allow the user a choice. If there were two native SATA power connectors and a user did not have any SATA devices, it would be two wasted connectors. Then again, if you did run SATA devices, you would need to use the un-sleeved converters, which would be unnecessary and unsightly.
| | | |
| --- | --- | --- |
| Honey-Comb Backing | | Side-Windows |

One may be wondering the point of a 500W PSU when a 300W PSU can power a relatively competitive rig without a hitch. While this is true for the regular end user, enthusiasts crave power. An enthusiast needs a power-supply that won't be the weak link in their quest to get the most out of their computer. Upping the VCore and VDimm adds more load to the PSU, most of the newer graphics cards require a four-pin molex connector for power, add to that mix multiple hard-drives, powerful fans and an assortment of case lighting; you're going to need a bit more than 300W.
| | | |
| --- | --- | --- |
| All lit up | | Specs |

Time for some performance testing. On each rail, the +3.3V, +5V and +12V, the PSU is allowed a ±5% tolerance, but anything past 5% is considered unacceptable. For idle, I used a paper-clip and shorted out the PS_On and a Ground wire so that the PSU would turn on with nothing attached to it. I then took those voltage readings. For load, I attached some cold-cathodes, a couple 92mm fans and over-clocked (and bumped up the voltage) of the CPU and memory. I then ran StressPrime 2004 and let the PSU run for an hour, and then took these readings.


VOLTAGE READINGS

Idle
% Difference
Load
% Difference
3.3V
3.389
2.7%
3.381
2.5%
+5.0V
5.21
4.2%
5.22
4.4%
+12.0V
12.19
1.6%
12.10
0.8%

The MGE Xtreme Gamer Vigor 500W is a solid performer. It pairs looks with performance to produce a very affordable, quality power-supply. Priced just a bit under $70, the Vigor 500W is a steal compared to the Antec TruePower 380W ($71) or OCZ PowerStream 420W ($100). The rails were very stable, even under a very pressuring load. The lights and sleeved cables are welcomed features. Overall, this is a great first impression from our friends at MGE and I give my highest recommendation to the Xtreme Gamer Vigor 500W power-supply.


Pros:
Cons:

Solid Performance
Visually Appealing
Sleeved Cables
Competitively Priced
Discuss this Review on the Forums