The [H]ard Workshop is today and everyone is anxious in anticipation. Last year Kyle smashed Infinium Lab's vapor-ware console, the Phantom, who knows what this year would bring. Unfortunately, nothing near as impressive as last year. Not that it matters for 95% of the attendees though; they're all there for the raffle to hopefully win some free hardware. But before Kyle can give away a couple thousand dollars worth of hardware: the company pitches from PR.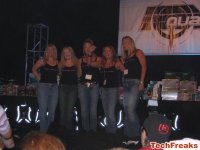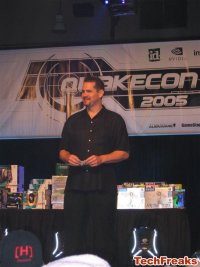 First up was Logitech, who showed off their new gaming mice and keyboard; the mice feature a hot-swappable battery and an adjustable weight system and the keyboard which has an LCD and blue backlit keys.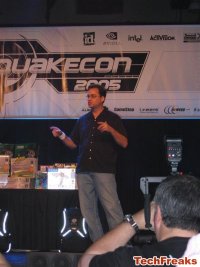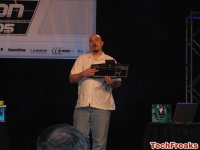 Next up was Andrew from nVidia, he pretty much stood up, answered a couple questions about mobility drivers and sat back down.
Yesterday, Carmack said in his keynote that he didn't have much faith in physics cards, so this set quite the stage for Ageia's CEO, Manju Hedge. Surprisingly, he gave a very good pitch for practical uses of a physics card in games today.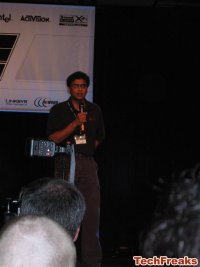 Harry from Abit did his own kind of Q&A session with himself, acknowledging that he realizes how many NorthBridge fans on Abit motherboards die and that Abit has come up with a solution for this problem: using a passive heatsink using heatpipes.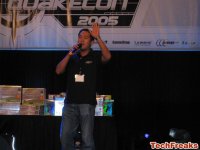 The representative from ATi came up, stumbled and fell hard (not literally, though that would have been amusing). His pitch was lacking, he tried saying that this new phone would be able to compete with the Sony PSP and Nintendo DS, but this phone had a screen that was no bigger than 2" by 1". He opened up the floor to questions and well, to put in lighter terms, got reamed in questions regarding ATi's [lack of] driver support for Linux users.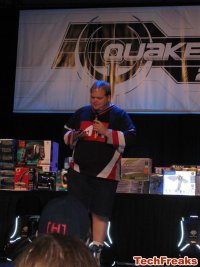 Surprisingly, Intel, who was one of the main sponsors of QuakeCon, chose not to speak at the workshop, which left the doors open for AMD. AMD representatives were passing out t-shirts in the BYOC before they were asked to leave. So during the Workshop, they passed out multiple boxes of t-shirts and free swag to gamers. Two reps came up for a ten minute Q&A session where they re-iterated to the lesser informed audience member that their lowest X2 processor kicks Intel's ass.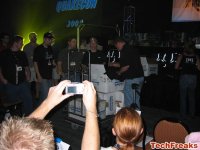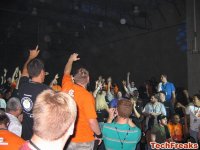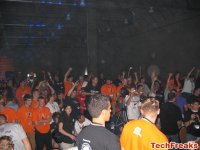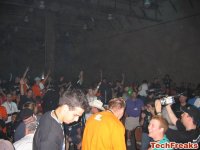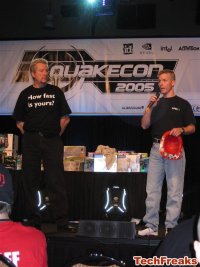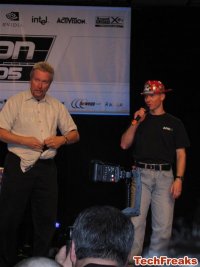 Before Kyle started to raffle off the prizes, he decided to sum up the billion dollar industry of computer hardware in a sentence: AMD is kicking ass in the processor industry and nVidia is kicking ass in the graphics card industry. Onto the prizes, Logitech was very generous this year, giving out around 15 wireless controllers for the PC, PS2 and Xbox, their new G5 gaming mouse and G15 keyboard. There was a good amount of 7800 GTXs and GTs given out by various manufacturers. Abit and AMD teamed up to provide processor and motherboard combos. Thermaltake provided quite a few heat-sinks. A good amount of people walked away with prizes.
I managed to get in a bit more gaming in before the Doom 3 Tournament Championship match between Fnatic\Gopher and Rocketboy. I covered the match in the news, so I'm just going to quote myself:
"Deja vu? In two consecutive matches, the underdog: Sweden's FNATIC\Gopher, defeated China's Rocketboy 7-5, 11-7. Rocketboy has previously beaten Gopher in the preliminary rounds 13-2. Exact same story as last year, except Gopher was Fata1ity and Rocketboy was Daler.

The first championship round, Gopher kept a 1 point lead with less than a minute to go. A frantic rocket fest ensued with Gopher getting the best of that battle and winning the round the 7-5.

The second championship round, which would decide who received the $25,000 first place prize (and the $15,000 second place prize), started out with Gopher taking a 3-0 lead. Gopher slipped up and accidentally suicided himself during another heated battle. Rocketboy started catching up and soon it was 4-4. Rocketboy gained three more kills on Gopher, and with three minutes remaining, the score was 7-4. Gopher got a quick frag on Rocketboy, picked up the 200 health, got two more frags on Rocketboy, and all of a sudden, with about 90 seconds to go, the score was tied once again. Rocketboy looked like he started to panic and began frantically roaming all over the map. Gopher got two more kills on Rocketboy to win the round with 20 seconds left, at which point they both acknowledged the game was over and shook hands."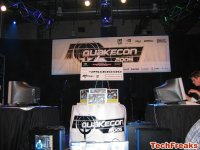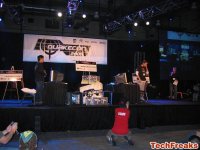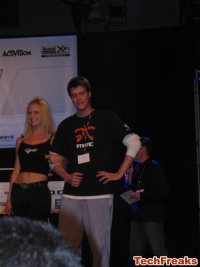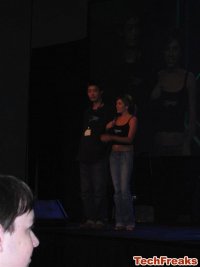 The QuakeCon staff quickly ushered everyone out of the building after Gopher won to prepare for the concert later tonight. Dismantled was the headliner this year, unfortunately, the conference room where the concert was held was packed to maximum capacity. There was barely any room to maneuver, so I only spent about ten minutes in there.
Even though QuakeCon doesn't officially end until noon on Sunday, most people pack up after their Saturday night of fragging so they can beat the registration rush. It all seems to be ending too soon, but I have to catch a flight at 3:30pm and the hotel kicks me out at 11:00am. I'll be spending about half of Sunday either in an airport or in a plane. I get my last frags in on the Chinese terrorists in Battlefield 2 and pack up.
Time to start making plans for QuakeCon 2006.