There was about an hour before the 11:00am trailer premiere and discussion of the Doom movie, so I decided to check out some of the sponsor booths. I think last year's sponsor layout was better because it was more spacious; it felt a bit cramped this year. nVidia's booth, if you could call it that, took up about half of the sponsor area containing two smaller booths dedicated to giving out free nVidia items, an array of tournament computers all playing the latest games, 8 demo computers playing various games including the upcoming Serious Sam 2 and a luxurious lounge. Intel had a smaller display featuring a line of computers that were all playing Quake 4. Activision had a booth where they were selling pre-orders of Quake 4 and Ultimate Spiderman. And Creative had their usual Fata1ity challenge. Smaller booths included: Bawls, where they were giving away free samples of SnoBawls (Bawls in a slurpee form), Kingston, Enermax, Linksys, Ageia, Blue Gears, Razer and Alienware.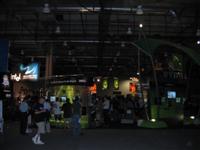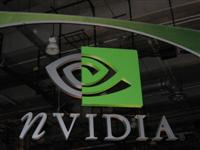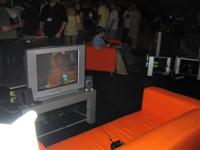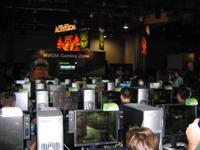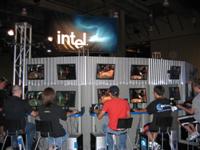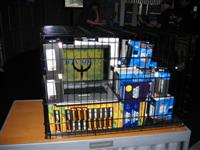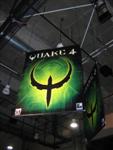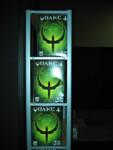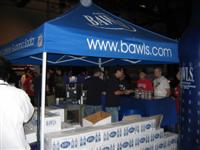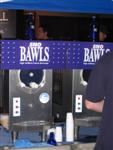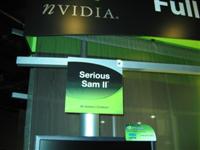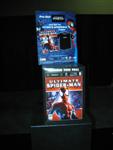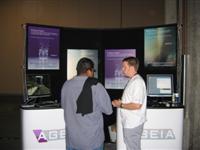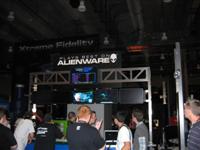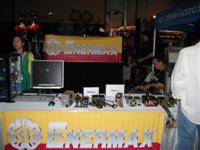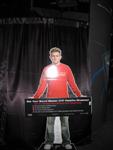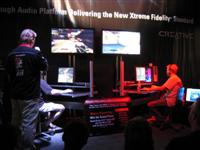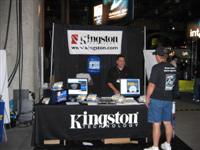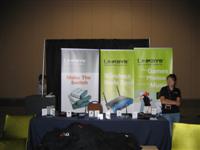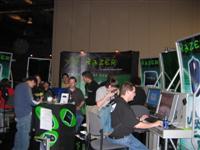 The Doom movie discussion was a trailer, a slideshow presentation of the production of the movie and a discussion panel featuring Co-Executive Producer Jeremy Steckler; Creature Effects Supervisor Jon Rosengrant, and id Software CEO Todd Hollenshead. The interviewer was Stephen Butts of IGN who asked pretty vanilla questions. But the holy grail was when they showed the exclusive footage: the movie will be partially in first person. That was pretty kick-ass. The construction of the monsters was pretty impressive too. One thing I'm not too happy about is casting The Rock as Sarge. Rock may have the physical build of Sarge, but I'm not a big fan of his acting. See the 160mb trailer and sneak preview of the Doom movie
at Doom3Maps.org
.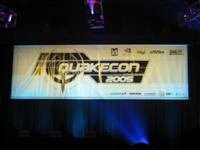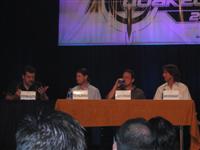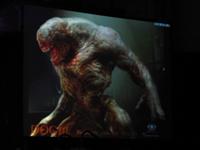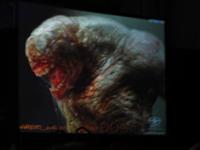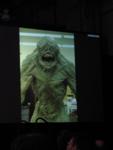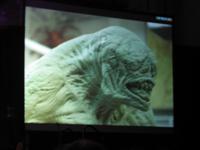 Next up was id's Special Presentation where they showed us previews of Quake 4; but really was an introduction to John Carmack's two hour keynote speech. This is the first time Carmack has actually attended QuakeCon in the past three years: two years ago he was sick and last year his son was born. It is amazing how genius Carmack really is. The keynote was two hours of intellectual babble about whatever came to Carmack's mind, however the two predominate topics of his keynote were the sudden leap to multi-core architecture and how with the exponentially increasing budgets of videogames, there is less chance for developers to take risks. In the Q&A portion of the keynote, Carmack was asked whether or not he thinks that an independent physics card (a hot topic this year) will become a necessity. Carmack answered the question directly stating that he doesn't know how realistically feasible the integration of physics in games will turn out and that the addition of this extra card might hinder game performance. To top off the keynote, a question was asked about what cars Carmack drives. He informed us that he has managed to sell off the last of his Ferrari's and now drives a BMW X5 so that he can "haul rocket parts."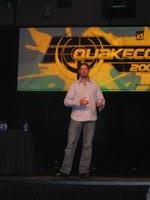 The keynote ended around 4:15pm, which left the rest of the day for gaming. At midnight, Newegg provided breakfast burritos and orange juice to all the late night gamers. It was weird having a non-caffeinated drink and something that might be remotely healthy after three days of a diet that consisted only of Dominos pizza and Bawls.
Day 3 coverage will be posted tomorrow.