Before I start this review, I'd like to thank Annie from
A4 Tech
for providing TechFreaks with this product to review.
Every time I hear the word wireless I feel warm inside because my desk is neat and the area I work in is set up to be as cable free as possible. That's why the wireless mouse is one of the many cable free inventions I have been using everyday since I first bought one long ago. Wireless mice have come a long way in this world, with optical, laser, and even rechargeable ones at that, what else can we do to improve this wonderful device? Oh I know, how about make it battery free? Impossible right? Wrong! Today we bring you the first and so far only battery free wireless optical mouse on the market. It's called the A4Tech NB-30 Batter-Free Optical Mouse, and so far I love it.
| | | |
| --- | --- | --- |
| Box Shot | | Box Shot #2 |
Before getting a rechargeable mouse, all of my other wireless mice ate up batteries like it was their last meal. I got tired of buying new packs constantly to make sure my mouse didn't die at a crucial time, such as writing an essay or preparing for an in-class presentation. So I decided to upgrade to the Logitech MX700 rechargeable mouse. It recharges on its own little cradle and suited me pretty well for the past year, but sometimes I forget to put it back on its cradle before bed, leaving me mostly mouse less the next day. I always wandered if there was a way to have a battery free wireless mouse, and it finally became a reality.
| | | |
| --- | --- | --- |
| Ordinary Mouse and Pad | | Donde estan los batteries? |
The NB-30 has two components to it. The first being the special pad that transmits signals to the mouse to power it. The pad connects to the USB port and you never have to worry about it again. The mouse is only active when sitting on the pad, so you can only use it as far as the pad can reach. I was amazed how easy it was to setup out of the box, and I was surprised that there wasn't any troubleshooting at all while messing around with it. So after many play tests with this new item, I decided to check out how it works and what it was composed of.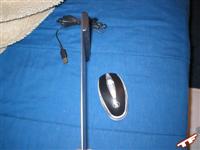 The pad is very thin
As I pointed out earlier, the package is composed of a special pad and the mouse itself. The mouse is very light; I wasn't used to its weight because all of my wireless mice had batteries to weight it down. The one thing I should point out is that the NB30 takes some time getting use to if you used a heavy mouse for most of your computer needs. I thought installing was going to be harder, but it actually isn't. You plug the USB cable into an empty USB port, put the mouse on the pad, and you are done. I was using the mouse within seconds of installing it, which is pretty good uptime versus other mouse installations.
When I received the product, I was worried that it wouldn't be as comfortable as my MX 700 since one of the main features it advertised was the way it formed to your hand. I was surprised to find that it adapted to my hand pretty well after the first few minutes of using the NB-30. Since the mouse has to be on the pad at all times, the only thing I noticed was the space restriction put on it. The pad isn't as big as a regular mouse pad, so those who are having trouble using a regular mouse pad will have more trouble using this. But I think it's about time to fire up a video game, don't you?
Being an avid gamer, I thought I should try playing a few games using the NB-30 to see how well it can handle. I didn't notice anything different from other mice except for its light weight and the slick surface it resides on (which you get used to). The sensitivity wasn't all that different from other optical mice and I'm willing to bet it can be compared to some major brands out there. Another downside I noticed was the fact it only has three buttons. Left, right, and the middle scroll wheel are the only buttons on the NB-30. So if you play many games using the extra buttons other mice have, you are going to be disappointed.
So after testing both the comfort factor and the game factor of the NB-30, I was curious to see if the pad was going to cause any long-term damage to my computer. The manual says the following:
1. "Do not place the product too close to CRT monitor. Keep a distance of at least 20cm."
2. "Do not us product on any metal table or surface…"
Notice there is a recommended distance for the NB-30, and my original mouse happened to be the length recommended, so I didn't have problems replacing it with the NB-30. My desk is also non-metal, so I had nothing to worry about there. As far as I know these are the only known interference problems caused by the pad, and I decided to try (bravely) putting my cell phone and other items of high sensitivity on the pad and nothing was damaged when I was finished.
Here are some of the mouse specifications and features found on their website:
Mouse
High Optical Precision Resolution
Product Dimension
Mouse: 4.45L x 2.44W x 1.38H in.
Package Content

Wireless Battery Free Optical Mouse
RFID-Mouse Pad
User's Guide
Product Weight Measurement

Mouse Unit only: 0.17 lb.
Mouse Pad only: 0.40 lb.
NB-30 Package: 0.95 lb.
The only mouse I could compare this to was the MX700. It's a pretty good comparison simply because you technically don't have to replace the batteries. The main differences between the two mice are that the MX700 costs more and it's that much heavier because of the rechargeable batteries inside. Also remembering to recharge it became sort of tedious after a while.
The main reason to buy this mouse would be for its main feature, the fact that it doesn't use batteries at all. The goal was to save money by not having to buy batteries every time your mouse dies, costing you more and more money. Other reasons to buy it may be its lightweight design or the fact that it's cheaper then most wireless optical mice currently on the market. It's also pretty cool to show off your friends by telling them your wireless mouse doesn't use any batteries, betting them on it, then later proving them wrong.
If you like money, then buy the NB-30. If you love having a clean desk and not getting caught up in pesky wires, then you probably wouldn't mind having a wireless mouse to. So why not save even more money and get a wireless mouse that doesn't need batteries? If that doesn't make sense to you, then by all means, get whatever mouse you want, just don't get mad if you end up with a battery eater. The NB-30 is almost flawless.
So far there haven't been any deformities I could find, with the exception of the smaller then usual mouse pad and it only having three functional buttons. But for those who don't need all of the space a regular mouse pad uses or use the extra buttons most mice have, then you will adjust to this pretty well and pretty fast. I will warn you that it is lighter then the average optical mouse and you need to adjust to it before performing any crucial tasks that need a steady hand. From my personal experience, it's a fast learning curve.
The mouse works quite well and has yet to malfunction in any way. The only thing I am worried about is if static electricity can do anything to the device but I don't feel like purposely trying to fry a brand new mouse at the moment; another article another time. I have noticed the mouse pad was kind of slippery the very first time I used it, but as I said before, it isn't a big deal when you adjust to it.
Although I do game a lot, I am one of those guys who can use any mouse for almost any purpose, so the mouse adapted to me pretty quick. I would like to say however that you should do your best to find someone who has the mouse so you can get a feel for it before purchasing it. A lot of gamers prefer heavy mice and rely on them for their performance while others like lighter mice and this would be good solution for the latter. It's up to the gamer, but the phrase "try before you buy" applies here.
The main question you are probably wondering is if it will really save you money from battery costs. I couldn't find any statistics on how fast a wireless mouse uses batteries, but from personal experience, I had to change them many times from what I could remember. So if you think about it, you just buy one piece of equipment such as the NB-30, and never buy extra batteries again (unless you run other battery eating electronics). What could be simpler?
So in ending this review I wanted to share my personal thoughts about the NB-30. I like it, I like it a lot. The weight of the mouse and the slick pad was weird at first, but in the end I came to the conclusion it was worth it. I'm impressed with the fact it causes no interference with other products (or at least any with the products I have) and I think the technology is very interesting. All of the batteries you bought can be put to a better purpose if you bought the NB-30.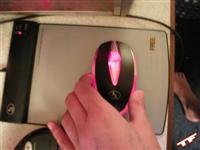 Pink is such a manly color
Pros:
Cons:

Wireless
Battery-less
Light-weight (most mouse weight is attributable to the batteries)

Takes awhile to get used to
Discuss this Review on the Forums