In the past year, LCD TFT monitors have gone through an amazing transition. The first LCD's which provided mediocre performance for desktop publishing and web browsing were plagued with many performance problems, such as severe ghosting with games and movies. The monitors also carried a more than hefty price-tag. The only edge LCD TFT monitors had on CRTs at the time was the size difference. The tables have turned; LCD manufactures are churning out new, improved and bigger LCD TFT monitors by the day .These new monitors feature more vibrant colors, higher supported resolutions, faster refresh rates and many other features that are setting a pace that aims for the LCD to pass the CRT in all areas of performance in the coming year.
Like everything else, the biggest and best monitors out on the market are still going to cost you a fortune: the heavily favored Dell 2001FP 20.1" LCD monitor retails for $1000, similar 20" LCD TFT monitors cost upwards from that $1000 price-tag. However, with the bigger and more feature-full LCDs coming out, it has significantly dropped the price of the older, smaller monitors. Today, I review one of those budget based monitors, the Viewsonic VA720 17" LCD, which carries a $400 MSRP but was on sale for $330 after-rebate at Fry's Electronics.
| | | |
| --- | --- | --- |
| Front of the Box | | Back of the Box |
The ViewSonic VA720 comes packaged in a red, white and green ViewSonic box which also features a handle. For those planning on transporting their monitor in the future, they might want to keep the box to not only protect the monitor during the said transportation, but the handle makes the box and monitor very easy to carry. While I'm sure ViewSonic put their best engineers on designing this revolutionary box-handle, the box's appearance needs some work. The top half is pretty much white space and only ¼ of the box features a picture of the monitor itself… and as you can see; the back of the box features the same design.
The VA720 itself comes in a very sleek silver color which is nicely accompanied by a black base. The monitor is very appealing and silver is a nice change from my plain, beige CRT monitors. The first thing I noticed about the VA720 was that it seemed bigger than any other 17" monitor I had ever used. Having used a 21" CRT for almost a year, the thought of going back to 17" seemed like a horror story in the making, but I was pleasantly surprised when I realized that a 17" LCD monitor means that you'll have 17" of viewing area. When you buy a 17" CRT monitor, you have about an inch or two of casing surrounding the display, so you really only have 15" - 16" of viewing space; with LCDs, the size the monitor is advertised at is how much viewing space you'll have. Finally; some honest marketing techniques.
With all this unexpected extra viewing area, the native resolution of the 17" VA720 is 1280x1024, which is a slight disappointment. A brief explanation of native resolution: behind each pixel of an LCD monitor are three transistors (red, green, blue... and yes, 1280x1024 would make 3,932,160 transistors) and the native resolution of an LCD is the default alignment of these transistors. Because 1280x1024 is a 5:4 ratio (not 4:3 like 800x600 and 1600x1200), when you lower the resolution the LCD has to scale the image and therefore there will be some skewing of the image. Lesson is, either like the 1280x1024 resolution or learn to like it.
Below the 17" screen, there are the standard 5 monitor buttons, two buttons to navigate the menu directories, two buttons to change the values of the monitor's default display options and most importantly, the power button. Pictures and Specifications are listed below:
| | | |
| --- | --- | --- |
| VA720 w/ Accessories | | Compared to a 21" CRT |
Specs: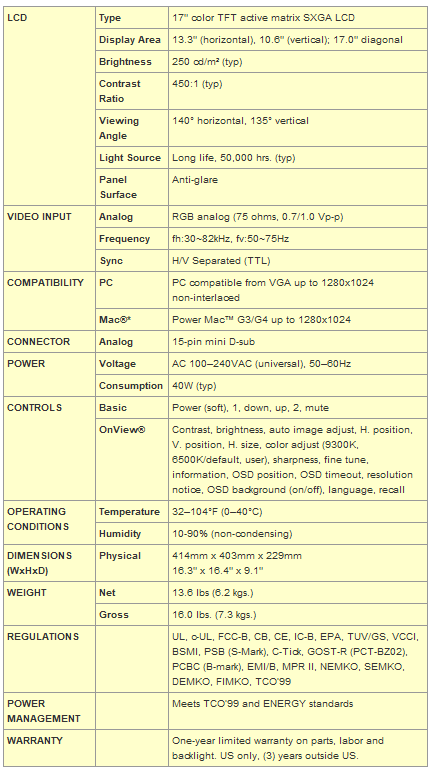 from ViewSonic.com
The back of the monitor is pretty much what you would expect to see on a back of a monitor. A female VGA port and DC (Power) In connector, which connects to an included transformer and then extends to a 6' AC power cable. As you can see, no DVI port, the VA720 does not support DVI which means unless you're willing to shell out more money for another monitor; you're going to have to live with an analog input. The monitor comes with few accessories: a power cord, transformer, male-to-male VGA cable and a ViewSonic Driver/Application CD. The transformer is a nice touch because it includes 6' of thin, DC power cable, which is one less bulky cable lying on your desk. The Driver/Application CD is pretty much useless, it prompts for registration every time it is ran (even if you have previously registered the product) and everything is done through Macromedia Flash (which is not my preferred way of installing drivers).
| | | |
| --- | --- | --- |
| Back of the VA720 | | Included Accessories |
Enough with the introductions lets see what this monitor really has to offer. Upon powering up, I was amazed with the sharpness of the monitor. Entering Windows, everything seemed a little bright compared to my old ViewSonic P815 CRT so I played with the brightness a bit through the VA720's onscreen options but couldn't get the brightness set perfectly to my liking. I eventually got used to the brightness and this might even be a standard thing on LCDs, it was just part of making the transition from CRT to LCD.
The first thing I always do with a monitor is fine-tune it to my liking through its menu options. I was disappointed with the lack of options the VA720 had. The Main Menu options are: Auto Image Adjust, Contrast/Brightness, Color Adjust, Information, Manual Image Adjust, Setup Menu and Memory Recall. Being my curious self and have already toyed with the Contrast/Brightness options, I figured I'd go exploring. You'll learn what the Auto Image Adjust is later, Contrast/Brightness allows you to alter the Contrast and Brightness, Color Adjust allows you to adjust the red, green and blue color levels, Information displays the monitors information such as the monitors Horizontal and Vertical Frequency and Pixel Clock. In Manual Image Adjust, you are supposed to be able to adjust the horizontal size and position of the screen, a "Fine Tune" option where I could notice no difference between the bar being at 0% and 100% and Sharpness. However, for some reason, the Sharpness option is blacked/pinked out and I was not able to access it. I don't know why, but I could not change the sharpness of my monitor. The Setup Menu allows you to change the Menu's Language and Memory Recall sets the monitors options back to its factory defaults.
| | | |
| --- | --- | --- |
| Menu Options | | No Sharpness Option? |
Easily, the highlight of the above menu options is the Auto Image Adjust function. When changing resolution on a CRT, you have to adjust the monitor's size and position on screen and if you happened to completely screw your monitor's options over, restoring the defaults would make you once again re-adjust your monitor's options. Auto Image Adjust removes any manual adjusting and adjusts the LCDs display to fit the current screen resolution. Even in games, where you may set the monitor to a lower resolution, Auto Image Adjust works miracles and is a major time saver.
| | | |
| --- | --- | --- |
| Reminder to Adjust | | Adjusting Monitor Image |
That's just the options, lets really see how the monitor performs. I used the MonitorsDirect Calibrator (http://www.monitorsdirect.com/toolkit/index.shtml), which consists of 5 LCD tests to properly assess a monitor's performance.
BRIGHTNESS AND CONTRAST TEST
This test consists of three screens; the first is an all black screen where you are supposed to turn your brightness to 100%. Because the factory default for the VA720's brightness is already 100%, the screen should have appeared a "milky white." Unfortunately, the black screen was still a black screen.
The next screen is an array of gray scale bars that progressively darken from white to black, and then again lightened from black to white. Each gray bar should have a distinct gray color. I observed this and did not have to change any Contrast or Brightness settings.
The last screen is to test "overall brightness consistency," where the white image should be the same white color across the screen. This appeared to be the case with the VA720.
COLOR PURITY TEST
This is a pretty standard test. Each screen displays a different color (Red, Green, Blue, and White) and each color should be the same consistent shade of that color across the entire screen. I noticed no change in color for any of the screens.
DEAD PIXEL TEST
I have a knack for finding dead pixels. Fortunately I found no "off" dead pixels on this model of the VA720, nor did I find any "on" pixels. Off pixels are dead pixels and will show up as a black dot on your screen, on pixels are defective pixels that are like a dead pixel, however instead of a black pixel, the pixel will be red, green or blue.
GHOST TRAILING TEST
In this test, there are four rectangles in a shape of a square that float across the screen in a diagonal manner. The screen is black and the rectangles are white. I'm looking for any trailing of the rectangles (ghosting). In this test, I did notice ghosting, however, the ghosting wasn't continuous, but rather seemed to jump. It would develop a small ghost, that ghost would jump back so there would be no ghost and the cycle would repeat itself.
GHOSTING AND STREAKING TEST
This is supposed to be relatively demanding on the screen where there are rough transitions from black to white and white to black. I noticed no streaks/ghosts for these transitions. The transitions were not smooth where the colors appeared to fade into each other, but a rough edge where the colors changed, which is how they should appear.
When purchasing an LCD, the two main things to hope for is little to no ghosting effects and no dead pixels. The VA720 passed the dead pixel test, but the ghosting test left me a little skeptical. I decided to put the VA720 to a practical, realistic test. And what better test than one involving games? I figured a good game to test for ghosting would be Quake III: Arena due to its dimly lit environment and fast paced action game play. During my multiple 10 - 30 minute skirmish's, I noticed no ghosting, none, nada. However, I may not have been looking hard enough because the sharpness and vividness of the colors that were being displayed through the monitor were amazing: a complete step-up from gaming on a CRT. The pictures do not do the monitor justice; I can not emphasize how much better the graphics looked on the VA720 as compared to my Viewsonic P815 21" CRT monitor. I also ran Battle Field: Desert Storm and Counter-Strike to round out the gaming portion of the testing, no noticeable ghosting and the graphics were absolutely stunning.



Quake III: Arena.. With a Gap
Due to Screen Resolution

These shots do not do
the VA720 Justice
For those considering buying a budget based LCD monitor, gaming shouldn't be a necessity, but rather a hobby where you might play a game or two every now and then. If you are a hardcore gamer who plays hours upon hours daily, I'd definitely go with a bigger monitor and one that supports DVI input and has a sub 20ms response time. The VA720 may be better than your current monitor, but the VA720 by no means is strictly meant for the serious gamer. So, if not gamers, who is the monitor aimed to? People who do not need their monitor to deliver tip-top performance in the most demanding situations. Probably those who are looking for a space-saver and crisper, sharper display. I spend the majority of my day on the internet reading and posting news on TechFreaks, checking email, writing code, etc. The real test of the ViewSonic VA720 is not that of its benchmarked tests, but how it performs during regular day usage and if there is a noticeable difference between that of it and a CRT monitor.
That being said, to really test the monitor, I just went on with my daily routine. I checked the news, posted some articles, emailed a few people, spammed a couple message boards and worked on some C++ code for my summer school class. And to top it all off, I watched two DVDs, Finding Nemo and Boondock Saints, which both looked spectacular on the VA720. The main thing I noticed about the LCD at the end of the day, my eyes weren't strained like they usually are. I really noticed this when looking through lines and lines of code on a white background, not only was the text crisper, but my eyes never really started to hurt or anything. Unbeknownst to me, there is a reason behind this. I think I found the answer after sorting through about 78 inputs to the question: "LCDs constantly refresh their screens. The LCD display is scanned with data as it comes in. The eyestrain difference is because LCD cells have far more persistence than CRT phosphors. When you write a value to a LCD pixel, it stays that way for almost a second before it fades out, while CRTs will fade out in milliseconds." In a nutshell, the monitor's flicker causes this strain and while both types of monitors flicker, LCD monitors flicker significantly less than CRT monitors.
For the $330 price-tag, the monitor delivers a great performance and is a recommendable solution for someone looking for something a bit nicer than their current CRT. I can't recommend this monitor for someone who has a performance demanding agenda, such as a hardcore gamer or avid movie watcher. The lack of DVI certainly doesn't help the VA720's appeal but is still ideal for the office workplace and moderate home users. And at its current retail price, the VA720 is almost a steal.
PRO's:
Affordable
Sleek Looking
Vivid and Sharp Colors
No Dead Pixels (at least on this model)
CON's:
No DVI
1280x1024 5:4 Native Resolution