Before I start this review, I would like to thank EverGlide and GamerzStuff for supplying TechFreaks with these superb products.



When you think of the tools you would find in a gamer's arsenal, you probably think of a heavily overclocked CPU running at negative temperatures, RAM with heatsinks made of gold, and a video card that could have paid for two months worth of rent. The most common overlooked component that is very important to gaming is the mousepad. Today I'll be reviewing three different mouse pads: the Everglide DKT Megamat, the GamerzStuff Xtreme, and the XTrac Pro HS.
To test these pads, I used each for a couple days while going upon my daily routine that consisted of internet browsing, graphics editing, and notably, gaming. All tests performed in this review were done with a USB Microsoft Intellimouse Optical mouse.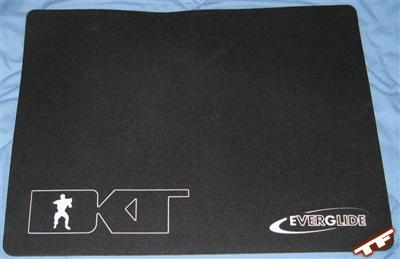 EverGlide DKT Megamat
They don't call this the Megamat for nothing. This thing is absolutely enormous. It's 14" high by 17.5" wide with a thickness of 3/16". Just to give you an idea of how big this is, I've taken a picture of it on my desk with my mouse on it. Notice how I had to put part of this mousepad under my keyboard because it's just that big. While you may find problems trying to fit this monstrosity on your desk, if you can, it's nice to know that it's so big that your mouse will probably never go off the edge of it. This is good, because if you're in the middle of an intense match of your favorite game is and your mouse slips off the edge of your mousepad, then it's likely to mess you up for a second, and that second can make a huge difference in a game.
On my Desk
What else is there to say about this pad other than size? Well, quite a bit, actually. First and foremost, one of the things that I did not like about this pad is how easily the black fabric top of it attracts dust and other particles, and how easy it is to see those particles on the pad. While the presence of dust and other particles wasn't apparent at all on the other pads, it was incredibly easy to notice even the slightest bit of dust on this one. On top of this, the dust took a little bit of rubbing to get off of the pad. While the dust and particles didn't seem to affect the optical sensor in my mouse during my tests, it's entirely possible that dust on the pad could get into the optical sensor of a mouse and make it freak out until you get the dust out. Even if this doesn't happen, the fact remains that this pad attracts dust, and this makes the pad look subpar.
As for how well my optical mouse responded to this pad, I found no problems. I did not notice any awkward or irregular activity from my mouse during the couple days that I used this pad, and it seemed to have no trouble picking up on where I wanted it to go. Lastly, when using this pad, I noticed that there was more friction between the mouse and the pad than on any other pad. My mouse did not move as smoothly across this pad as it did the others. This is probably due to the material used on the surface of this pad, and some people may actually prefer to have this additional friction to minimize accidental knocking around of the mouse. However, I prefer that there is minimal friction between my mouse and my mousepad.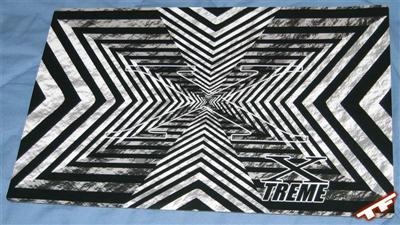 GamerzStuff eXtreme
While this pad isn't as big as the Megamat, it is still pretty large at 10.5" high by 16" wide with a thickness of approximately 1/8". This pad is big enough that it is unlikely that your mouse will go off of it; however, it's also small enough that it should fit on most desks without any problem. Another nice thing about this pad is that of the three pads I'm reviewing here, this one definitely looks the best. The black/grey/white design along with the patterns on the pad make it look awesome. Not only are there distinctly different colors for the optical sensor of a mouse to pick up on (black, grey, and white), but the pad is also textured in such a way that the optical mouse can pick up on the texturing.
I did not run into any problems with mouse response on this pad. Moving my mouse on this pad was great, with only minimal friction between my mouse and the pad. I was able to give my mouse a little push and it would glide across the pad.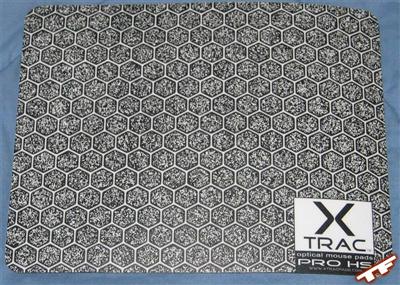 XTrac Pro HS
Of all the pads I'm reviewing today, this one is by far the smallest, measuring in at 8.5" high by 11" wide with a thickness of 3/32". This small size is both good and bad. It is good because it can fit on pretty much any desk, even if it doesn't have a lot of space. However, if you move your mouse too far, it will fall off the mousepad. During my testing period with this pad, my mouse went off of the pad multiple times.
While this mousepad certainly looks better than the Everglide Megamat, it doesn't look nearly as good as the GamerzStuff Xtreme. The hexagonal pattern is nice, but the GamerzStuff Xtreme simply looks better.
Mouse response on this pad was excellent, just like on the other two pads. XTrac claims that the randomly-placed dots in the hexagons make optical mice respond extremely well on their pads, and from my testing, this seems to be true.
When using this pad, there was almost no friction between the mouse and the pad. I would say that in the friction department, this pad and the GamerzStuff Xtreme were pretty much equal, as they both seemed to have just about no friction.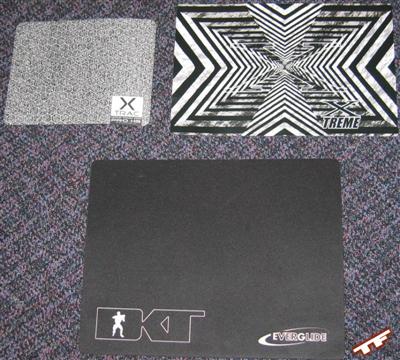 Glamour Shot
Which pad is the best choice for you? Well, that really depends on what you are looking for. If desk space is an issue, then the XTrac Pro HS is probably your best choice. If you have a decent amount of desk space, then I would recommend the GamerzStuff Xtreme over the Xtrac Pro HS simply because it is big enough that it is extremely unlikely that your mouse will ever go off of it. If you prefer a fabric surface with more friction than the hard surfaces of the Pro HS and GamerzStuff Xtreme, then the Everglide DKT Megamat is a great choice, as long as you don't mind cleaning the dust off of it every day or two.
Keep in mind that I only used these pads for a short time, so I can not attest to the durability of any of them. They all seem like they should be able to last a long time.
Everglide DKT Megamat
- 7.5 / 10
GamerzStuff Xtreme
- 9 / 10
XTrac Pro HS
- 8.5 / 10
Discuss this Review in the Forums