Through this tutorial, you will learn how to back-up your DVDs in an SVCD format, all without the use of an expensive DVD Burner. Please note that it is
ILLEGAL
to copy or back-up a DVD that you
DO NOT
legally own.
Materials:
1. DVD you plan on converting/copying or the appropriate .vob files you wish on converting
2. DVD-Rom Drive
3. DVD2SVCD (
download
)
4. TMPGEnc (
download
)
5. ASPI Drivers (
download for Win9X, ME, 2000
|
download for WinXP
)
DVD2SVCD is the program that does the majority of the conversion. TMPGEnc is what DVD2SVCD uses to reduce the size the captured video. The ASPI Drivers are needed for DVD-Rom communication. All of these programs are required and will be used in this tutorial. Please install them before continuing on.

Insert the DVD you wish to back-up into your DVD-Rom drive and start up DVD2SVCD. An Informational Pop-up will appear, but everything it mentions will be covered in this tutorial so there is no need to read it.

Informational Pop-up

We first need to let DVD2SVCD know what encoder it will be using. You can use either TMPGEnc or Cinema Craft Encoder, in this tutorial we will be using TMPGEnc. Click the Encoder tab and check to see if TMPGEnc is already selected as the default encoder and its filepath is correctly displayed. If not, hit the folder icon and direct it to where you installed TMPGEnc.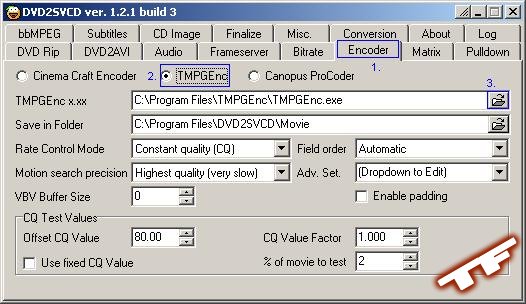 Encoder Tab Settings

Click the DVD Rip tab and make sure Activate DVD Ripping is checked, if not, check it. It is strongly advised that you also choose to Use vStrip over the Internal Routines as the latter option caused some users conversion problems.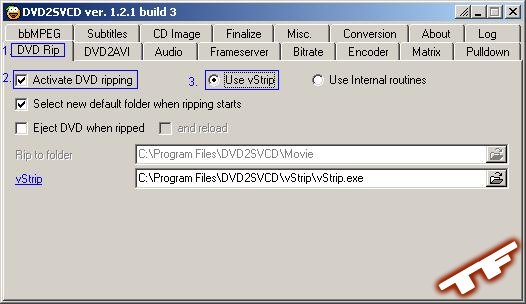 DVD Rip Tab Settings
Click the Conversion tab and press the disc button. This will load the information off your DVD. If you have already ripped the DVD, press the Folder button and locate the appropriate .IFO file. Either way, DVD2SVCD should take a minute to analyze the video off the DVD, this should take no more than a few minutes, usually it is a couple of seconds.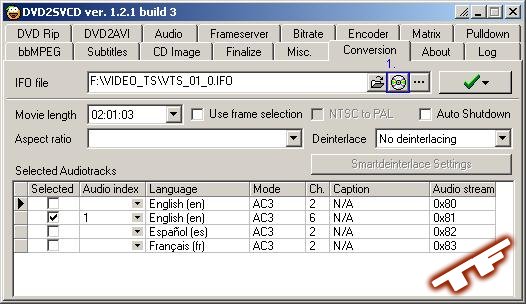 Conversion Tab Settings

While you're still in the Conversion tab, press and hold down the giant check mark button and select Preview Video (still picture), this should show a frame of the movie you plan on converting. This is very handy for when you are loading the files off your hard-disc and you're not completely sure if you're converting the correct files. Once you're sure you are ready to convert, press and hold down the giant arrow button and select Rip and Convert. Let it run and go to sleep, this process will take a couple of hours and use all available resources it can its grubby little hands on.
| | | |
| --- | --- | --- |
| Aha! Last Step! | | Conversion Status Window |
Be sure to visit our forums if you have any questions, comments or concerns.